OBITUARY
Francis John Frisch Jr.
August 18, 1948

–

August 29, 2021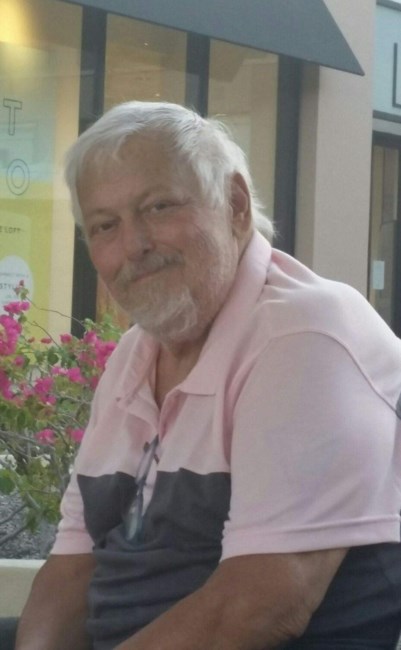 Fran Frisch (73) Born: August 18, 1948 in St. Paul, MN Transitioned to Eternal Life: August 29, 2021 in Palm Springs, CA
The world is a little dimmer and the heavens a little more bright and colorful as Fran Frisch lost his battle with cancer and made his peaceful transition surrounded by love on August 29th, 2021. Fran, the globally recognized Artist known as FRISCH, was the first Artist to put a Bear on a T-Shirt (entitled Can U Bear it?) and thereby created a visual identity in 1988 for the emerging Bear Subculture in the Gay Community. His "Beartoons" and his pioneering efforts supporting and growing the Bear Community earned him his "Beartoonist of San Francisco" reputation.
Fran was a Force of Nature; living life with passion and in pursuit of those things he loved. His influences started early with his Grandmothers. Grandma Murray sparked his creativity and awakened his artistic gift when she gave him a Paint-By-Numbers kit. By 6 years old he was creating and drawing his own greeting cards. Grandma Coduti taught him both his culinary and gardening skills. Fran loved being in the garden and in the kitchen. Julia Child was his inspiration. He loved to use fresh ingredients, and herbs that he grew himself, to create wonderful dishes from scratch. Fran loved cooking for a group. Nothing made him happier than sharing a meal with those he loved.
Fran had a kind heart and generous soul and was the true embodiment of being a Leo. Compassion and bigheartedness, consciousness, drive and natural leadership are the Leo traits that easily defined him. He threw himself 100% into anything he did; mastering his lifelong passions in Art, Cooking, Gardening and Reptiles.
Fran joined the Minnesota Herpetological Society ("MHS") in 1981 and served on the Board of Directors from 1982-1987. He was awarded a lifetime membership for his many contributions to the club. He initiated monthly reptile education events at the Como Zoo to give MHS members a chance to present snakes, lizards and other reptiles to the public, created several fundraising projects such as: special raffles; the Great White Snake Sale (an annual sale of herp related items donated by the members); and photo and art contests. His herp cartoons graced MHS newsletters, t-shirts and auction art. He once donated 50 specially designed T-shirts to support a Ridley Turtles Rescue effort. He encouraged social get-togethers for members with summer picnics, holiday banquets and going out for pizza after meetings and education programs. While he served as MHS President in 1985, he organized the first Midwest Herpetological Symposium to bring members of all the Midwestern clubs together to listen to world class speakers and meet & greet each other. The Symposium became an annual event that continues to this day, hosted by different clubs throughout the Midwest. Fran generously donated art to support the Symposium every year.
Fran loved animals of all types and owned a wide variety throughout his life. Although he had a special affinity for Reptiles and Fish, he loved all animals and they loved him. He certainly lived up to his namesake, St. Francis, the Patron Saint of Animals.
Fran started working at Northstar Steel in MN in 1969. He was also drawing cartoons for a publication called the Twin Cities Gaze and donating his artwork to raise money for worthy causes. However, once he visited San Francisco, he fell in love with the City and knew that was where he needed to be. In 1990, he was able to transfer his job to Leslie Salt and also became the Cartoonist for the Bay Area Reporter (BAR). So he packed up his Jeep and headed West to call San Francisco his home for the next 17 years.
Fran made an amazing use of his time and talent in San Francisco. His ideas were a driving force behind the development of the Bear Community and his artwork provided the visual identity. His cartoons and artwork were regularly featured in Bear Magazine as well as other popular gay publications. Fran conceived and was instrumental in launching Bear Expo (1992-1994); a founding Member of the Bears of San Francisco (1994); and helped to create and launch the highly successful International Bear Rendezvous (1995-2011). He created numerous logos for a variety of organizations and Bear Clubs around the globe. His logos, designs and artwork have been printed on over 50,000 shirts, hats, coasters, tiles, pins, clocks……and people.
Besides the Bear Community, Fran had deep ties to the Leather Community. While working at Mr. S Leather, he did the studwork for many Titleholder patches and sashes. Frisch was an Iconic figure in San Francisco's Gay Community in the 1990s and remains a key historical figure in the Bear Community to this day.
Fran had a huge heart and raising money for Charities was a part of who he was. At his Art Shows he would raise money for the Bear, Leather and broader LGBT Communities. He routinely donated his time and artistic talent to provide items for auctions, raffles and other fundraising events. Frisch's artwork has raised over $100,000 for countless charities including: HIV/AIDS Organizations, National Center of Lesbian Rights, PFLAG, The GLBT Historical Society, National Prostate Cancer Foundation, and many, many others.
Fran received recognition and many awards from numerous organizations for his talent, hard work, fundraising efforts and being a true Pioneer in the LGBT/Bear Community. In 2002, Fran was diagnosed with prostate cancer. Although this was a big blow, Fran faced it head on and while he was going through his treatments, he created "Because I Care", a campaign to help raise awareness and money for the National Prostate Cancer Foundation. He had Art Shows that included presentations about the importance of knowing about your PSA and getting regular medical checkups. As most of his audience was older men, it was the perfect message for this targeted demographic. Fran never took being a prostate cancer survivor for granted.
In 2007, Fran retired to Palm Springs, CA. Here he continued to work on all of his passions, search for adventures as well as continued to support and donate his artwork to local charities. His watercolors took on a whole new vibrant tone due to the desert climate and more reptiles, roadrunners and palm trees made their way into his art. In 2017, he published a Coloring Book FRISCH COLORING BOOK OF BEARS as an interactive 30 year retrospective of his work. Also in 2017, Fran was the subject of the GLBT Historical Society's exhibit "Beartoonist of San Francisco-Sketching and emerging Subculture".
For those fortunate enough to know Fran, life was never dull. He lived in the present and was always looking for adventure and wanted to share the experience. He truly enjoyed being with family and friends. Fran was one of those rare individuals that had a spectacular imagination and endeavored to live his dreams. Whether it was a road trip, a meal or an evening at home, Fran was able to make the ordinary extraordinary. He always had a plan figured down to the details, so all you had to do was go along for the ride and be part of the adventure.
Fran is survived by his Mother, Mary Jane Nord; Brother, Phil Frisch; Niece, Angie (Jay) Matuzak; Nephew, Tony (Abby) Frisch; Aunt, Josephine Christensen (Ron Thunhorst); Aunt, Joan Marchio; Aunt, Maureen Marchio; Cathy & Lee Gilchrist; Ashley, Chad, Chloe and Ceci Hart; JL; Coco, Sha Sha, Fuji and Torii; as well as many more Family, Friends and Loved Ones.
Fran Frisch, Artist / Leader / Icon / Pioneer / Amazing Human Being, you will be cherished forever.
A Celebration of Life for Fran will be held on Saturday, November 6th from 10 AM- Noon: Cimarron Golf Resort 67-603 30th Avenue Cathedral City, CA 92234 A Celebration of Life for Fran's Family and Friends in St. Paul, MN is planned for Sunday November 14th.
Donations to continue and to preserve Fran Frisch's Art and Legacy can be made to the GLBT Historical Society by visiting: https://www.glbthistory.org/fran-frisch-memorial
The Society hosted an exhibition in 2017 that highlighted Fran's work and showed his profound influence on the emergence of the Bear Community. The exhibition is intended to launch online as a virtual exhibition in 2022.
See more
See Less
Services
No services are scheduled at this time. Receive a notification when services are updated.
RECEIVE UPDATES
In Memory Of
Francis John Frisch
Help tell the story of your loved one's unique life. Leave a memory or share a photo below to show your support.